VETS DAY PROJECT **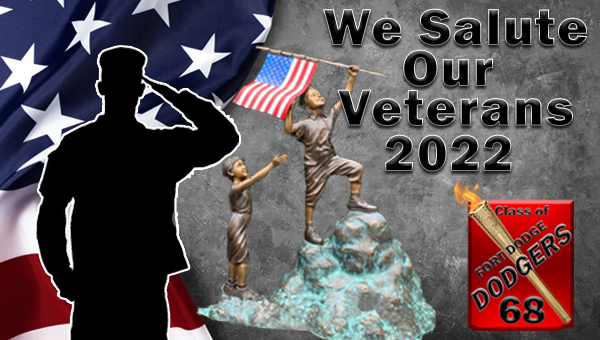 If you asked any one of your Veteran Classmates or Teachers Why - Why did you decide to join the military? - The responses would probably include "to serve our Country", "a calling to service" or "a family tradition". Ultimately though, it would boil down to because "We live in the Land of the Free".

"The Land of the Free". What a tribute!

Your Fort Dodge Senior High Class of 1968 includes 88 Classmates (that have been verified) that are Veterans besides the 12 teachers that have been verified. These brave young people raised their hands and pledged their lives & service to our country; not knowing what exactly was in store for them, but filled with pride and patriotism for their, and our, "Land of the Free".

Last year, for your 2021 FDSH Class of 1968 Veterans Day Project, we again raised funds from your Classmates to honor your Veteran Classmates, and for the first time your teachers that we verified as Veterans, in the Veterans Day Supplement to the Fort Dodge Messenger. Your class made up a very large and impressive part of that supplement - over half. In addition to our goal of funding the supplement, we joined with the Fort Dodge Noon Sertoma Club in raising funds to help add a new statue at the Webster County Veterans Memorial Park.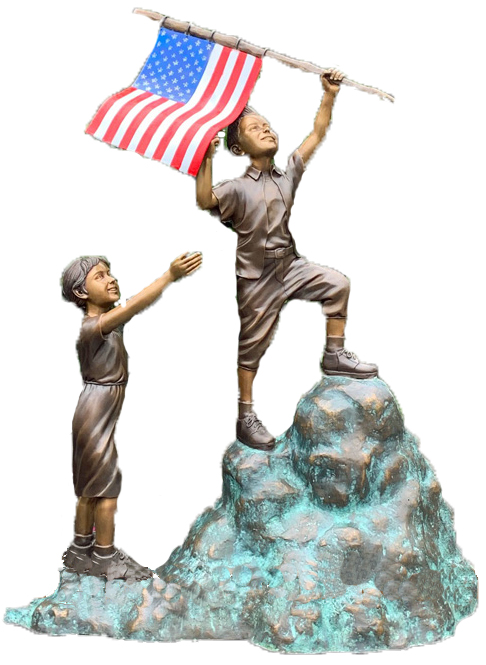 The "Land of the Free" Statue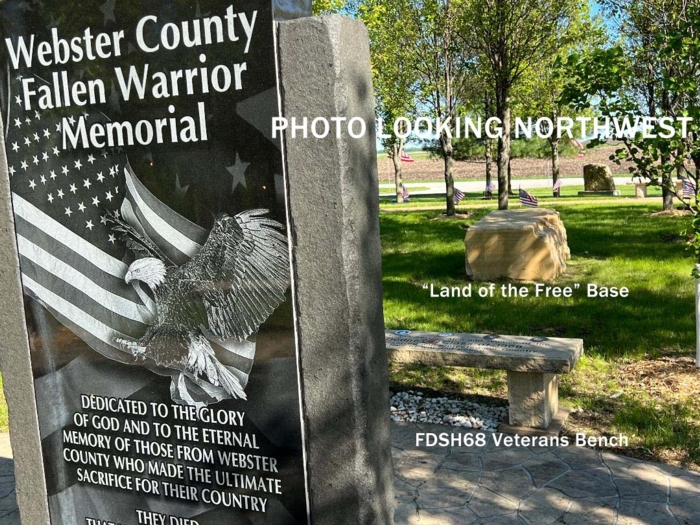 The Noon Sertoma Club has plans to purchase this "Land of the Free" statue. The limestone base has already been secured and was installed in place this spring right behind and to the north-west of your FDSH68 Veterans Bench. What a great location! Last year, your Classmates contributed $2,868 toward the purchase of this statue and limestone base besides the $480 collected for the Messenger Veterans Supplement. Unfortunately, the Noon Sertoma Club is short the final $4000 needed to purchase the statue. After your excellent response to this project last year, we would like to see this beautiful statue secured this year, so it can be installed and in place before you return to Fort Dodge in 2023 for your 55 Year Reunion.
That's why we are starting early this year.
This year for our 2022 Veterans Day Project, our goal is to raise the funds to honor your Veteran Classmates and Teachers by again including them in the Veterans Day Supplement to the Fort Dodge Messenger and to help complete funding the remaining $4000 balance for the "Land of the Free" Statue. The installation of this statue will be a magnificent addition to the park, the area next to your FDSH68 Veteran Classmate Bench and trees. the Webster County Fallen Heroes Monument and a fitting tribute to honor all Veterans and our great country - The Land of the Free.
Won't you join together so we can make
this honorable project a reality?
We are again using GoFundMe to make donations easy for you. Just "CLICK" on the GoFundMe logo below to go to our campaign donation page.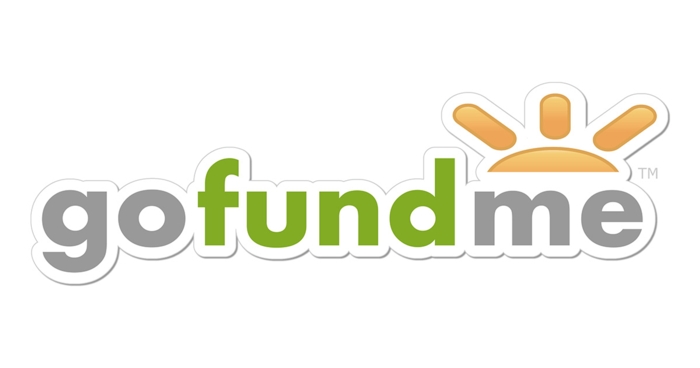 If you wish, you can send your donation with a check. Just make your check payable to "Fort Dodge Noon Sertoma Club" (you will receive a tax deductible receipt by return mail), write "FDSH68 Veterans" on the memo line and mail to:
FDSH Class of '68


Sam Hartman
2300 10th Ave N
Fort Dodge, IA 50501-2804
Thank you very much!


Please copy and share this link
https://tinyurl.com/2p8s6drj
with your friends.
Let all DODGERS know about our project.