Butler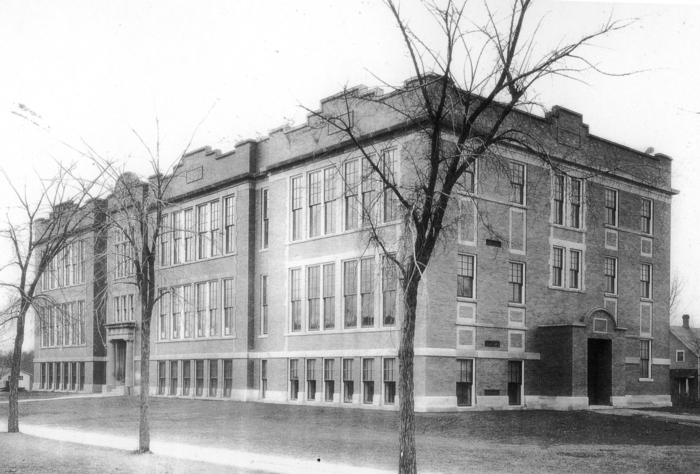 Photo courtest Roger Natte & The Webster County Historical Society
Butler School began in a rented house on south Twenty-second street in 1906. The district was then known as the Oleson Park district. The school board rented a one-room house, and three grades were taught in it. The next year the board rented another one-room house on Twentieth street and three grades were also taught there. Both of these early schools were under the supervision of Arey School.
In 1910 a new building was built in the Oleson Park district. It was named Butler School for Mr. J. B. Butler who was an active, helpful member of the school board at the time. Mr. and Mrs. Butler were always interested in the school and presented it with a picture that was hung in the hall.
At the time the school opened in 1910 only four rooms were needed. The board had built the building larger because they expected the southeastern part of the city would grow. That is exactly what happened, and soon all the rooms were needed.
In fact the district grew so rapidly that in 1928 a six-room addition to the building was completed. This made a sixteen-room modern school building.
Many changes have happened in Butler District since it began, back in 1906. The first school had a Round Oak heating stove while the present one has a modern heating and ventilating system. The first Butler School had a tin dipper and pail for drinking purposes. At first the little one-room buildings were out in the open spaces, often win swept and snow blocked.
One of the outstanding features of Butler School is its playground which is a recreation center throughout the year. The playground covers four acres and is well equipped for physical education and forms of recreation.
The building has an attractive all school library where children meet for regular library periods. A music room for both instrumental and vocal activities is enjoyed by the students and teachers. It often becomes an assembly room for interesting programs.
The setting of Butler School makes Oleson Park available for nature study, hikes, picnics, etc. The Great Western Bridge which is easily visible from the building has been and always will be a source of interest and fascination to the children.
With an increasing enrollment and a building that was close to 90 years old, the Fort Dodge Community School Board began planning for a new building for Butler Elementary in 1997.
The new Butler Elementary School was built in 1999 in the same location as the original Butler School. Butler Elementary serves approximately 500 students in kindergarten through fourth grade. Its goal is to provide a safe, fun and stimulating environment where all kids can learn and excel.
Sources:
*Fort Dodge in Pioneer Days …. 1944… by Lucy Taff
*Fort Dodge Community Schools website
fortdodgehistory.com

Betty Cooper Plooy
Doug Dahlke
Joe Flaherty
Konnie Froyd Sparks
Robert Hamlow
Sandra Hedeen Gustafson Graham
Dale Hill
Nancy Hill Langlitz
Daniel Lage
Linda Larsen Black
Richard Nelson
Randy Pieper
Roger Pieper
Randy Pingel
Walter Schuh
Mark Scott
Kathy Sheker Aikens
Sandra Skophammer Altman
Michelle Thorndike
Cliff "Lee" Wallace