Pleasant Valley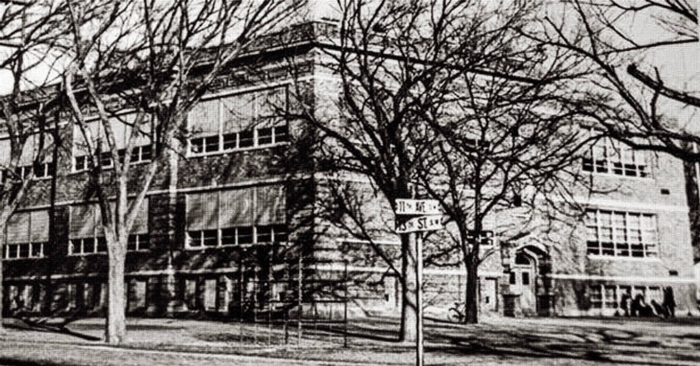 1307 10th Ave SW
The citizens of the district of Pleasant Valley were given the privilege of choosing a name for their new school building. They chose the name, "Pleasant Valley", because it describes the valley well, and because they hoped the school might be a pleasant place for everyone who worked there.
The Pleasant Valley district was known as the First Ward school in the earlier days. It has been impossible to locate the data of the first school house in the district. Early settlers think that the district is about 60 years old, but they do not know where the first building was located nor when it was built.
The first records found were in some school board notes of March 15, 1887. This seems to mean that the first school property in the district was bought in that year.
The building was known as the First Ward Building, Number 2. It was a one-room school house with an outside well and other inconveniences the children of the present day school never knew. The school had three grades and one teacher. By 1908 this school had grown to a three-room frame building with a teaching staff of three. The building was heated by stoves while water pails and public drinking cups provided water for the pupils.
In 1913 a Parent-Teacher Association was formed. That spring a petition for a new building was started and circulated. A special election was held, and money for a new school was voted. In 1914 the present school building was ready, having been built just across from the three-room building.
The brick building has seven classrooms and a gymnasium which is much used by the children as well as being a recreation center for adults in 1843 one end of the upper hall was converted into an all school library to which all grades come as part of their regular classwork.
Information from: fortdodgehistory.com

Charles Dally
Claude Dally
Jose Grady
Gregory Lundgren
Leslie J. Meyer
Michael Murray
Ray Pickett
Wendell Pugh
Pam Scott Studebaker
Tim Wendell