Arey

The streets of Fort Dodge were not always named as they now are. In the earlier days of Fort Dodge, Arey School would have been located between Walnut and Locust, Morrison and Main streets. Today these streets have become First and Second avenues, & Sixteenth and Seventeenth streets south. The school was located at intersection of 1st Avenue South and South 17th Street.
The first Arey School was built between 1889 and 1890. It was named for Melvin F. Arey who was superintendent of schools at the time. This first building had only four rooms. These four rooms were torn down in 1900 so that a larger building (shown here) could be built that was finished in 1901.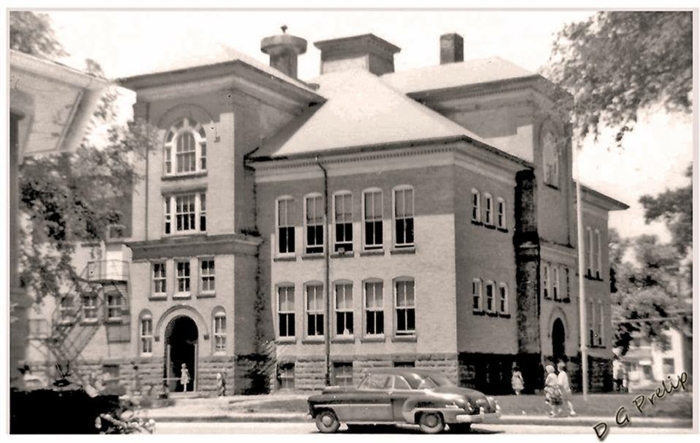 The large lot which had been purchased for a playground was often flooded and made into an ice skating rink in winter. During the summer the playground was used for recreation purposes.
When the preliminary group became kindergarten "A" and was taught by the regular kindergarten teacher, the basement room became an assembly and music room. An upstairs room, not needed as a classroom, was converted into an attractive all school library in 1943.
With the growth of population and an outdated building, a new Arey Elementary School was built in the same location at the intersection of 1st Avenue South and South 17th Street. The new Arey School (pictured below) was built in 1965.

The Arey Elementary School was closed in the 1980's and was converted into the public school administration office building.
The public school administration moved their offices to a vacant building at the corner of 2nd Ave N and 25th Street in 2020. After the move, remodeling the Central Administration Building, formerly Arey Elementary School, into an early childhood center for grades pre-K, transitional kindergarten and kindergarten began. Construction is anticipated to be completed in June 2021 for the 2021-22 school year.
Information from: fortdodgehistory.com and The Messenger

Melvin F. Arey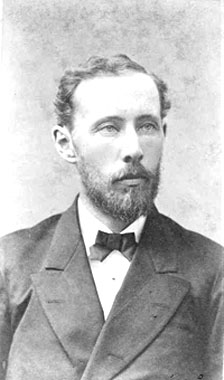 Melvin Arey Melvin Franklin Arey was born in Hampden, Maine, on January 19, 1844. He joined the 22nd Maine Infantry in 1862 in the middle of his college education.
After leaving the army in 1863, he returned to school and graduated with a B. A. in 1867 and an M. A. in 1870, both from Bowdoin College.
On May 16, 1869, Melvin Arey married Louise H. Smith also of Hampden, Maine.
Melvin Arey taught in Maine and New Hampshire public and private schools. In 1873, he moved to Iowa where he was Superintendent of Schools in Cedar Falls until 1877. He was then Superintendent of Schools in Fort Dodge, from 1877 to 1890. In 1890, Professor Arey was asked to join the faculty of the Iowa State Normal School. He became a Professor of Natural Sciences, and was head of the department from 1909 until he retired in 1917.
Professor Arey was an integral part of the early faculty, leaving his mark in many ways on the school. In order to get students more involved in natural sciences, Professor Arey founded the Natural History Association, an organization in which students and alumni could discuss or present findings on natural sciences.
In 1893, Dr. Arey went on an expedition to the Bahamas, where he studied natural sciences and returned with specimens and new and interesting findings for his students. In 1917, when he retired from regular teaching duties, Professor Arey was put in charge of the school's natural history museum. He was curator from 1917 to 1928. He acquired a wide variety of information, artifacts, and specimens for the museum.
Professor Arey was also highly involved outside the college. He was a city councilman for the 4th Ward in Cedar Falls from 1897 through 1915. He also served as a trustee of the city hospital, a fellow of the American Academy for the Advancement of Science, and a life member of the Iowa Academy of Science, of which he was president in 1905. He was a member of Phi Beta Kappa, Psi Upsilon, the Grand Army of the Republic, the Central Association of Science and Mathematics, and the Iowa Forestry and Conservation Association. Professor Arey was a respected and valued faculty member and an active citizen in the Cedar Falls community. Two of his children, Amy and Ethel, served on the college faculty.
Professor Arey died on March 20, 1931


SCHOOL PRINCIPAL:
Randall Boring
Shirley Behrens Morrison
Nancy Blair Meffe
Patricia Defoe Ford
Darwin Gaster
Diann Frank Grove
Konnie Froyd Sparks
Darwin Gaster
Janet Parks Hearn