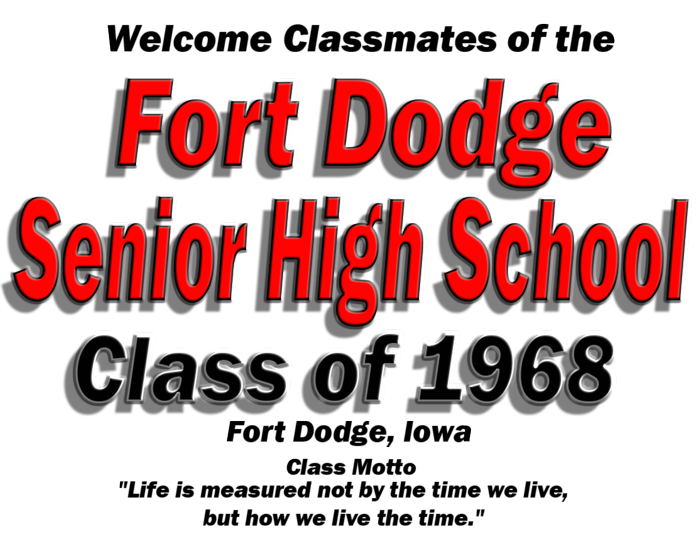 Home Page Visitor Count: 68,075
We have created a "Playlist" on YouTube including all of the song videos featured each week on "Can't Get This Song Outa My Head". You can watch them on your computer, tablet, phone or TV one after the other, shuffle and/or loop them. New videos will be added each week when they are featured. Enjoy!
(--Just Click Below--)


Good Morning Dodgers! Here are your Morning Home Room Announcements for the day.

The list below indicates your Classmates who are celebrating their birthdays in approximately the next 30 days. "CLICK" on their name below and send them a personal Birthday Greeting.
ANNOUNCEMENTS


To send a Classmate a Birthday Greeting, "click" on a name in the "Upcoming Birthdays" box above and write a greeting below the profile. You can also send a private message and send other messages to your Classmates by "clicking" on their name on the Classmate Profile page.


June 2019 visitor count to our Class Website was a total of 27 Classmates (0.9 per day). For the last 6 months, an average of 33.5 Classmates visited each month (1.1 per day). Very few Classmates drop their Classmates Birthday Greetings. Is there any significant interest in keeping our Class Website open?
You must be logged in to submit this survey. Please use the login box in the upper right corner.

| | |
| --- | --- |
| | We have just learned that Lou Ann (Pfaff) Peterson, a Classmate from FDSH '67, has passed away. Her funeral will be Saturday July 20th at 11:00 AM at First United Presbyterian Church in Moline, Illinois. |