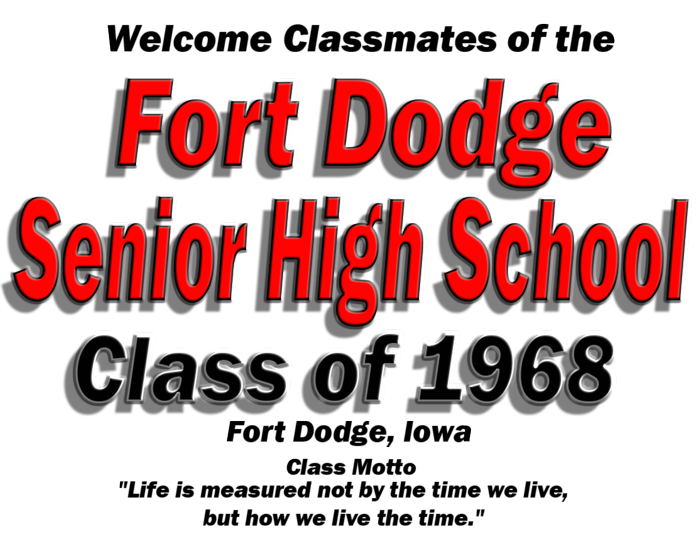 ---

---
We were Classmates By Chance
We are Reunited By Choice
At the end of 2016, we were 190 Classmates strong here on our class website. THAT IS AMAZING! We would like to thank all of you for joining together here to get re-acquainted with your High School friends from "way back then". That's what reunions are all about.
We have the unique ability through this website to get an early start on our reunion; to rekindle our friendships and to share our stories with each other. After our 50th Reunion is completed, we can continue using this website as a "hub" to stay connected with each other. Check in here often to see who has recently "joined" or Classmates that we are looking for. If you have kept in contact with someone we are looking for, let us know. You might also consider striking up a "Direct Message Conversation" here with someone that you really didn't know too well in High School. Our FDSH Class of '68 was full of great people - get to know them!
If you are new here and happened to find us looking for a school friend but didn't happen to have the privilege of being a member of our esteemed graduating class, you are welcome here. We also welcome our instructors. Please join us. Just email us at info@fdsh68.com and we will get you signed up as an official guest of the Class of '68 and you will have all classmate access.
Bottom Line: fdsh68.com is YOUR website. Use it to its full extent. If you have a suggestion or something you would like to see - email us at info@fdsh68.com and we will see what we can do. If you know where one of our missing classmates is, or someone that you know has moved; email us and let us know. We want this website to work for you and us.
Remember always: Stay Safe - Stay Healthy - and Have a Great 2017!
---
Site Administrators:
Sam Hartman sam@fdsh68.com
Bruce Jochims bruce@fdsh68.com
Norma Wieser (Adson)
Home Page Visitor Count: 24,343

Good Morning Dodgers! Here are your Morning Home Room Announcements for the day.
ANNOUNCEMENTS
These are our classmates that we are searching for:
Any information that you could provide would be appreciated.
You must be logged in to submit this survey. Please use the login box in the upper right corner.
| | |
| --- | --- |
| 1) | Who can you help us with? |
| | |
| --- | --- |
| 2) | Where can we find him / her? |
APRIL BIRTHDAYS
Mike Pratt 4/4
Kurt Hanson 4/6
Nancy Hill Langlitz 4/6
Phyllis Blunt Grove 4/9
Kathy Roark Gehring 4/10
Jeanne Heman McDonald 4/17
Roger Taylor 4/17
Linda Wilson Heider 4/19
Rick Nelson 4/20
Jeannie Cahill Small 4/21
Nancy Lynn Kmett 4/21
Clifford Myers 4/24
Jana Sandeline Huebsch 4/24
Kim Mason Dunne 4/25
Charlene Burke Smith 4/26
Joanne Gerrard Kauffman 4/26
Kenneth Heinze 4/27
(*) Michael Sollenbarger 4/29
(*) Hasn't joined us here yet but "Birthday Greetings"
can be sent to our classmate on Facebook along with encouragement to join us.

Do You Remember?
Who can remember where this was? (Answer is posted below)

This is the back of North Junior High. The garage door on the right was the "Metal Shop Classroom" and the garage door to the left of that was the "Wood Shop Classroom". The entry door behind the dumpster was the back entrance to the school.

Reunion Memories


YEARBOOK MEMORIES

April 1968 Music Hits

"CLICK" on the title to view a video of the song.
1 (Sittin' On) THE DOCK OF THE BAY Otis Redding
2 YOUNG GIRL The Union Gap Featuring Gary Puckett
4 LA-LA MEANS I LOVE YOU The Delfonics
5 (Sweet Sweet Baby) SINCE YOU'VE BEEN GONE Aretha Franklin
6 CRY LIKE A BABY The Box Tops
7 LADY MADONNA The Beatles (Audio)
8 THE BALLAD OF BONNIE AND CLYDE Georgie Fame
9 LOVE IS BLUE Paul Mauriat and His Orchestra

ANSWER: During a hurricane
The Rolling Stone: Jumpin' Jack Flash