"What is a Dodger?" is a question that is asked often.
"A 'dodger' had to light the fuse of the dynamite and
then dodge the explosion". "He was the
miner who was the last man out. He exemplified courage,
toughness, grit and a will to survive and thrive by working
hard to beat the odds. These characteristics continue to
represent our Dodgers today."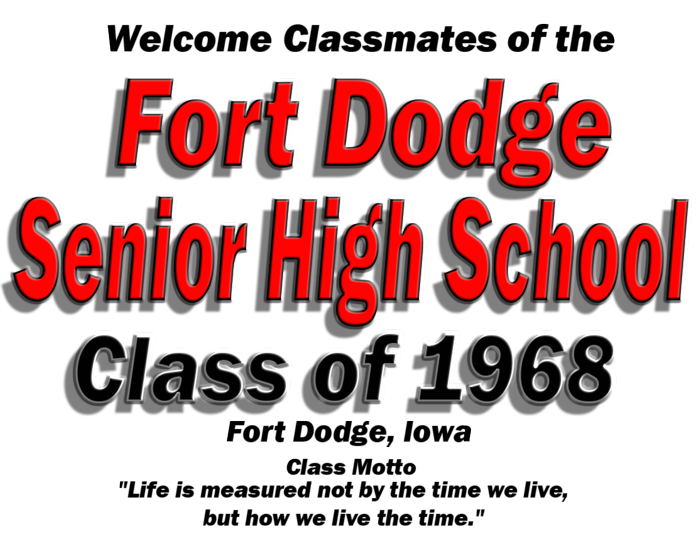 Home Page Visitor Count: 70,506

We have created a "Playlist" on YouTube including all of the song videos featured each week on "Can't Get This Song Outa My Head". You can watch them on your computer, tablet, phone or TV one after the other, shuffle and/or loop them. New videos will be added each week when they are featured. Enjoy!
(--Just Click Below--)


Good Morning Dodgers! Here are your Morning Home Room Announcements for the day.

The list below indicates your Classmates who are celebrating their birthdays in approximately the next 30 days. "CLICK" on their name below and send them a personal Birthday Greeting.
ANNOUNCEMENTS


ANNOUNCEMENT
To send a Classmate a Birthday Greeting, "click" on a name in the "Upcoming Birthdays" box above and write a greeting below the profile. You can also send a private message and send other messages to your Classmates by "clicking" on their name on the Classmate Profile page.

ANNOUNCEMENT

Friday September 20th - 7:30 PM
DODGERS at Carroll High School
LIVESTREAM 92.1 The Eagle

(Also on your Echo device just say:
"Alexa, play 92.1 the Eagle on iHeart Radio")
Game 3 - 09/13/2019 - DODGERS: 28 / Indianola: 21 in OT
Game 2 - 09/06/2019 - DODGERS: 42 / Ames Little Cyclones:
7
Game 1 - 08/30/2019 - DODGERS: 65 / Mason City: 0

ANNOUNCEMENT
"Can't Get This Tune Outa My Head" are posted here each Friday thru Sunday.


ANNOUNCEMENT
Final Results of Last Weekend's
"Can't Get This Tune Outa My Head"
Opinion Survey


Thank you to those who participated in our Opinion Poll.

ANNOUNCEMENT

UPDATE: September 3, 2019
Our "GoFundMe" Campaign to raise funds to honor our Class Veterans in the Veteran Day Supplement to be published in the Fort Dodge MESSENGER was a huge success. We will be giving the MESSENGER $755.00 and they will in turn donate 100% of the funds to the "Brushy Creek Honor Flight" Fund, enabling WWII, Korean and Vietnam War Veterans a chance to fly to Washington DC to view their War Memorials. Thank you to all who contributed to our campaign.
All of our Veteran Classmate photos along with their Service Information have now been forwarded to the MESSENGER to be assembled into the supplement. We are looking forward to having a great representation of our FDSH Class of 1968 Veterans in the Veteran Day Supplement November 11, 2019!


ANNOUNCEMENT
This "FDSH Class of '68" Website (fdsh68.com) is fully funded thru January 14, 2026. At that point, the website will become unavailable.