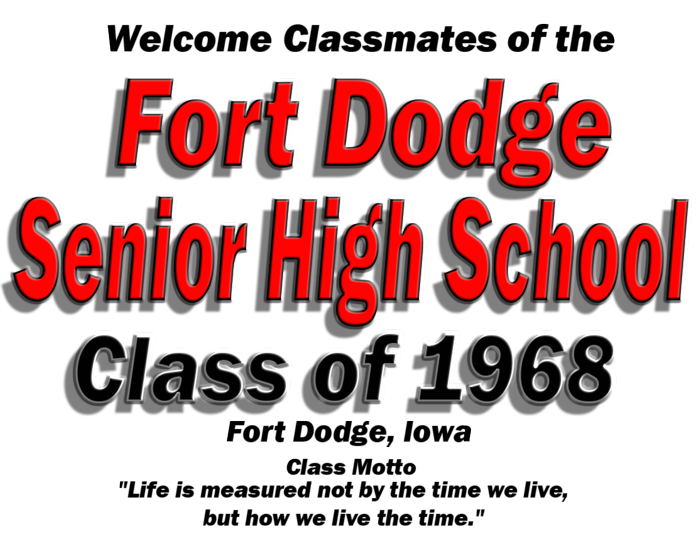 ---
Be sure to scroll down the page for your "Morning Homeroom Announcements".

---
We were Classmates By Chance
We are Reunited By Choice
At the end of 2016, we were 190 Classmates strong here on our class website. THAT IS AMAZING! We would like to thank all of you for joining together here to get re-acquainted with your High School friends from "way back then". That's what reunions are all about.
We have the unique ability through this website to get an early start on our reunion; to rekindle our friendships and to share our stories with each other. After our 50th Reunion is completed, we can continue using this website as a "hub" to stay connected with each other. Check in here often to see who has recently "joined" or Classmates that we are looking for. If you have kept in contact with someone we are looking for, let us know. You might also consider striking up a "Direct Message Conversation" here with someone that you really didn't know too well in High School. Our FDSH Class of '68 was full of great people - get to know them!
If you are new here and happened to find us looking for a school friend but didn't happen to have the privilege of being a member of our esteemed graduating class, you are welcome here. We also welcome our instructors. Please join us. Just email us at info@fdsh68.com and we will get you signed up as an official guest of the Class of '68 and you will have all classmate access.
Bottom Line: fdsh68.com is YOUR website. Use it to its full extent. If you have a suggestion or something you would like to see - email us at info@fdsh68.com and we will see what we can do. If you know where one of our missing classmates is, or someone that you know has moved; email us and let us know. We want this website to work for you and us.
Remember always: Stay Safe - Stay Healthy - and Have a Great 2017!
---
Site Administrators:
Sam Hartman sam@fdsh68.com
Bruce Jochims bruce@fdsh68.com
Norma Wieser (Adson)
Home Page Visitor Count: 21,031

Good Morning Dodgers! Here are your Morning Home Room Announcements for the day.
ANNOUNCEMENTS
FEBRUARY BIRTHDAYS
Kathleen Moeller 2/1
Craig Nelson 2/1
Greg Lundgren 2/2
James Weiss 2/2
(*) Wayne McMannus 2/3
Martha McFadden Miller 2/4
Ann Rae Heitland 2/5
Scott Swinney 2/7
Sara Swan Magnusson 2/8
Peg Shoemaker Mikulanec 2/13
Teri Haugen Knudson 2/15
Dave Cramer 2/17
(*) Cheryl Dennis Sanford 2/18
Joseph Flaherty 2/20
Daniel Brown 2/22
Kent Brooks 2/23
Terry Hill 2/24
Mark Scott 2/24
Linda Weaton Hurd 2/27
Craig Lindstrom 2/28
(*) Hasn't joined us here yet but "Birthday Greetings"
can be sent to our classmate on Facebook along with encouragement to join us.

You may "click" on Kent's name to send a private and direct Birthday Greeting to your classmate.
Reunion Memories



YEARBOOK MEMORIES

February 1968 Music Hits

"CLICK" on the title to view a video of the song.
1 GREEN TAMBOURINE The Lemon Pipers
2 JUDY IN DISGUISE (With Glasses) John Fred and His Playboy Band
3 CHAIN OF FOOLS Aretha Franklin
5 BEND ME, SHAPE ME The American Breed
6 WOMAN, WOMAN The Union Gap Featuring Gary Puckett
7 LOVE IS BLUE Paul Mauriat and His Orchestra
8 NOBODY BUT ME The Human Beinz
9 GOIN' OUT OF MY HEAD/CAN'T TAKE MY EYES OFF YOU (Medley) The Lettermen
10 I WISH IT WOULD RAIN The Temptations