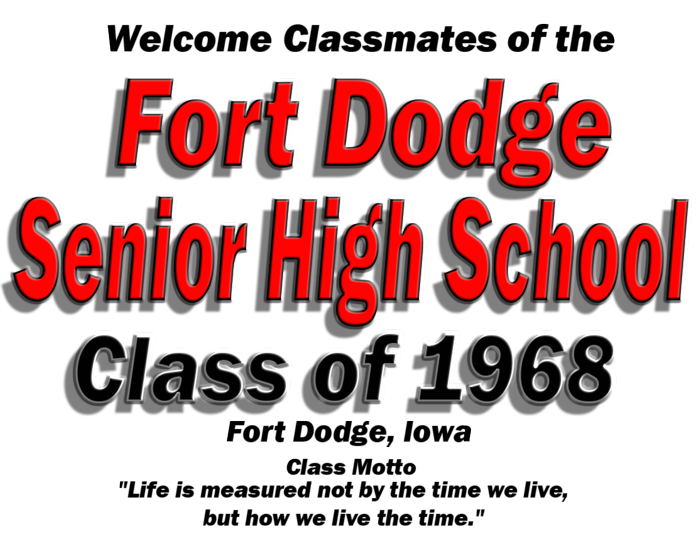 Home Page Visitor Count: 69,439
We have created a "Playlist" on YouTube including all of the song videos featured each week on "Can't Get This Song Outa My Head". You can watch them on your computer, tablet, phone or TV one after the other, shuffle and/or loop them. New videos will be added each week when they are featured. Enjoy!
(--Just Click Below--)


Good Morning Dodgers! Here are your Morning Home Room Announcements for the day.

The list below indicates your Classmates who are celebrating their birthdays in approximately the next 30 days. "CLICK" on their name below and send them a personal Birthday Greeting.
ANNOUNCEMENTS
To send a Classmate a Birthday Greeting, "click" on a name in the "Upcoming Birthdays" box above and write a greeting below the profile. You can also send a private message and send other messages to your Classmates by "clicking" on their name on the Classmate Profile page.

"Can't Get This Tune Outa My Head" are posted here each Friday thru Sunday.


Here's your "Can't Get This Tune Outa My Head" for this weekend! Back in February 1966, "(You're My) Soul and Inspiration" was a song by American pop duo the Righteous Brothers. It was the group's first hit after leaving their long-time producer Phil Spector. The song was written by Barry Mann and Cynthia Weil, who also wrote the group's first hit "You've Lost That Lovin' Feelin'" along with Phil Spector. Side B: "B-Side Blues".

This "FDSH Class of '68" Website (fdsh68.com) is fully funded thru January 14, 2026. At that point, the website will become unavailable.