FDSH 1968 Vocal Music Department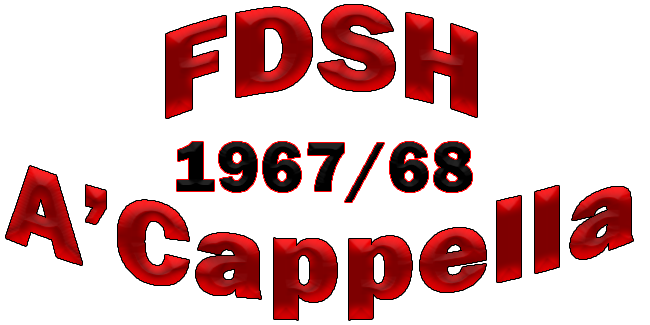 We would like this "history" of the Fort Dodge Senior High Vocal Music Department to be as complete as possible concerning the musicals that our class was a part of. Additionally, we would like to include other general information about other years and musicals that will illustrate the quality of the program, its Directors and its student casts & musicians.
Do you have any pictures (production or personal) that you could generously share copies with us to include here? We would greatly appreciate it. Additionaly, do you have any personal memories of any of these three productions?
Also, we may ask questions below to make this story more complete. If you know the answer to any of them, please let us know.
Copies of pictures, memories and answers to questions can be emailed to us HERE.

History of FDSH Musicals
1928 The Marriage of Nannette

1929 H.M.S. Pinafore

1930 The Mikado

1931 The Pirates of Penzance

1932 The Firefly

1933 Faust

1934 The Chocolate Soldier

1935 Babes in Toyland

1936 Rose of Algeria

1937 Blossom Time

1938 Of Thee I Sing

1939 The Gondoliers

1940 Tha Vagabond King

1941 Naughty Marietta

1942 Steethearts

1943 The Firefly

1944 The Red Mill

1945 Her Regiment

1946 A Waltz Dream

1947 Love Goes South

1948 Look Who's Here

1949 Meet Arizona

1950 The Hither & Thither of Dorothy Dither

1951 Sweethearts

1952 The New Moon

1953 Brigadoon

1954 Finian's Rainbow

1955 Seventeen

1956 Paint Your Wagon

1957 The Countless Maritza

1958 Annie Get Your Gun

1959 Oklahoma

1960 Carousel

1961 South Pacific

1962 The King & I

1963 The Music Man

1964 My Fair Lady

1965 Carnival

1966 Camelot

1967 Where's Charley?

1968 Brigadoon

1969 How To Succeed in Business

1970 Hello Dolly

1971 Li'l Abner

1972 On A Clear Day
1973 The Sound of Music

1974 Guys & Dolls

1975 Oliver

1976 Babes in Arms

1977 Funny Girl

1978 Damn Yankees

1979 Bye Bye Birdie

1980 Once Upon A Mattress

1981 South Pacific

1982 Bells Are Ringing

1983 The King & I

1983 The Pirates of Penzance

1985 Annie

1986 Seven Brides For Seven Brothers

1987 The Wizard Of Oz

1988 The Sound Of Music

1989 The Boy Friend

1990 Into The Woods (National Premier Performance)

1991 Oklahoma

1992 42nd Street

1993 Carousel

1994 Meet Me In St. Louis

1995 Anything Goes

1996 Crazy For You

1997 Naughty Marietta

1998 Once Upon A Mattress

1999 Bye Bye Birdie

2000 Annie Get Your Gun

2001 Babes In Arms

2002 The Music Man

2003 Guys & Dolls

2004 Oklahoma

2005 The Pirates of Penzance

2006 Grease

2007 State Fair

2008 Li'l Abner

2009 Cinderella

2010 South Pacific

2011 Seven Brides For Seven Brothers

2012 Fiddler On The Roof

2013 Thoroughly Modern Millie

2014 Anything Goes

2015 Damn Yankees

2016 Crazy For You
2017 The Pajama Game
2018 Disney's Beauty and the Beast

FDSH Vocal Music Directors
Donald Walker 1955/56 School Year
Larry Mitchell 1966/67 School Year
As a producer, director and musical theater consultant, Larry Mitchell has directed over 80 productions of more than 60 different musicals in the past 40 years. He has directed musical theater productions at the junior and senior high school, university and semi-professional levels in the United States and England.
In addition, he has conducted workshops at the following universities: Iowa State, Iowa, Wisconsin, Northern Iowa and James Madison. He has also given presentations on musical theater for The American Choral Directors' regional and state conventions and conducted a "Masterworks Sing" at the National Musical Educators National Conference Convention in Anaheim, California.
For three summers, he served as Director of Musical Theatre for the International Educational Institute in the professional Northcutt Theatre in Exeter, England. In 1968 he co-founded The Comedia Musica Players who have performed in England's Northcutt Theatre, the Tabor Opera House in Leadville, Colorado, and the Belvidere Opera House in Central City. They have also toured extensively throughout Iowa, occasionally under the auspices of the Iowa Arts Council and the National Endowment of the Arts.
In 1997, Mr. Mitchell retired after 31 years as the choral director at Fort Dodge Senior High School of Fort Dodge, Iowa. At that time, the school had performed musical theater continuously since 1928. In 1990, his high school was the first non-professional organization in the United States to perform Stephen Sondheim's Into the Woods. His final musical, Victor Herbert's Naughty Marietta, was the school's seventieth annual musical theater production.
His choirs have been invited to perform for regional and state conventions and are known for their unique presentations, including staged and costumed performances of Menotti's The Unicorn, the Gorgon and the Manticore, and Hugo Distler's Totentanz.
Matthew Drees - Present School Year
Mr. Drees is currently serving as Director of Choral Activities at FDSH. Ensembles under his direction include Dodger Men's Chorus and The A Cappella Choir. Additionally Mr. Drees teaches Advanced Vocal Techniques, Music Appreciation, and independent music study.
A native of Iowa City, Mr. Drees attended Iowa City West High School, where he was a two-year All-State Chorus member and three-year ISU Honor Choir member and participated in concert and show choir, marching and concert band, and musical theater. He holds his Bachelor of Arts degree in Music Education from Luther College in Decorah, Iowa.
He has worked at Fort Dodge Senior High School since 2011.