FDSH 1968 Vocal Music Department

We would like this "history" of the Fort Dodge Senior High Vocal Music Department to be as complete as possible concerning the musicals that our class was a part of. Additionally, we would like to include other general information about other years and musicals that will illustrate the quality of the program, its Directors and its student casts & musicians.
Do you have any pictures (production or personal) that you could generously share copies with us to include here? We would greatly appreciate it. Additionaly, do you have any personal memories of any of these three productions?
Also, we may ask questions below to make this story more complete. If you know the answer to any of them, please let us know.
Copies of pictures, memories and answers to questions can be emailed to us HERE.

History of FDSH Musicals
1928 The Marriage of Nannette

1929 H.M.S. Pinafore

1930 The Mikado

1931 The Pirates of Penzance

1932 The Firefly

1933 Faust

1934 The Chocolate Soldier

1935 Babes in Toyland

1936 Rose of Algeria

1937 Blossom Time

1938 Of Thee I Sing

1939 The Gondoliers

1940 Tha Vagabond King

1941 Naughty Marietta

1942 Steethearts

1943 The Firefly

1944 The Red Mill

1945 Her Regiment

1946 A Waltz Dream

1947 Love Goes South

1948 Look Who's Here

1949 Meet Arizona

1950 The Hither & Thither of Dorothy Dither

1951 Sweethearts

1952 The New Moon

1953 Brigadoon

1954 Finian's Rainbow

1955 Seventeen

1956 Paint Your Wagon

1957 The Countless Maritza

1958 Annie Get Your Gun

1959 Oklahoma

1960 Carousel

1961 South Pacific

1962 The King & I

1963 The Music Man

1964 My Fair Lady

1965 Carnival

1966 Camelot

1967 Where's Charley?

1968 Brigadoon

1969 How To Succeed in Business

1970 Hello Dolly

1971 Li'l Abner

1972 On A Clear Day
1973 The Sound of Music

1974 Guys & Dolls

1975 Oliver

1976 Babes in Arms

1977 Funny Girl

1978 Damn Yankees

1979 Bye Bye Birdie

1980 Once Upon A Mattress

1981 South Pacific

1982 Bells Are Ringing

1983 The King & I

1983 The Pirates of Penzance

1985 Annie

1986 Seven Brides For Seven Brothers

1987 The Wizard Of Oz

1988 The Sound Of Music

1989 The Boy Friend

1990 Into The Woods (National Premier Performance)

1991 Oklahoma

1992 42nd Street

1993 Carousel

1994 Meet Me In St. Louis

1995 Anything Goes

1996 Crazy For You

1997 Naughty Marietta

1998 Once Upon A Mattress

1999 Bye Bye Birdie

2000 Annie Get Your Gun

2001 Babes In Arms

2002 The Music Man

2003 Guys & Dolls

2004 Oklahoma

2005 The Pirates of Penzance

2006 Grease

2007 State Fair

2008 Li'l Abner

2009 Cinderella

2010 South Pacific

2011 Seven Brides For Seven Brothers

2012 Fiddler On The Roof

2013 Thoroughly Modern Millie

2014 Anything Goes

2015 Damn Yankees

2016 Crazy For You
2017 The Pajama Game
2018 Disney's Beauty and the Beast

FDSH Vocal Music Directors
Donald Walker 1955/56 School Year
Larry Mitchell 1966/67 School Year

1966


We were fresh from North & South Junior Highs when we became the Sophomore Class at Fort Dodge Senior High for the 1965/66 school year. It was a huge change for us, but we stood up to the challenge.
One of the highlights of our Sophomore year was having the opportunity to participate in the final musical production of Vocal Music Director Donald Walker's at FDSH. Our first High School year was Walker's last, and he and his cast did a magnificent job recreating the Broadway musical hit Camelot in our gymnasium.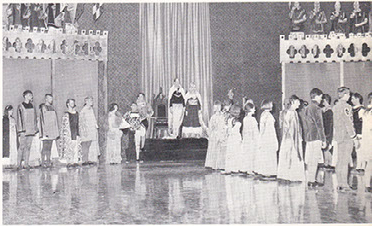 QUESTION: What years was Don Walker the Director of the Fort Dodge Senior High Vocal Music Department?

1967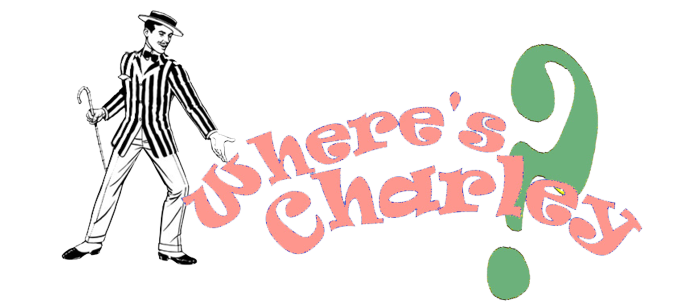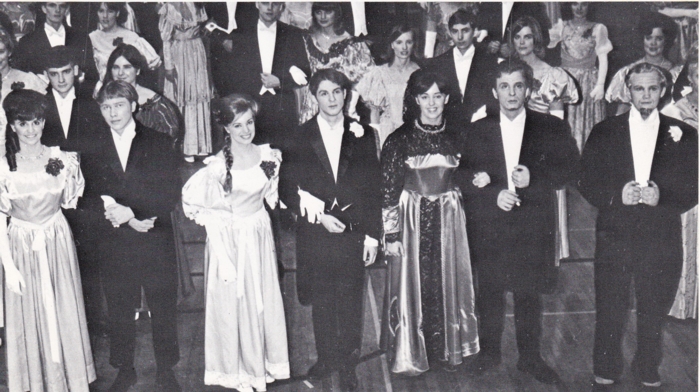 1968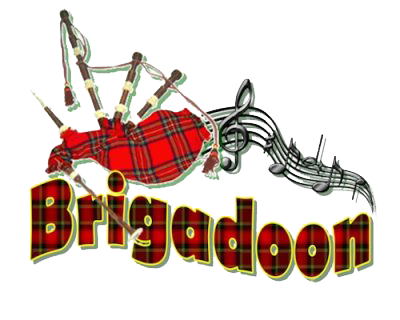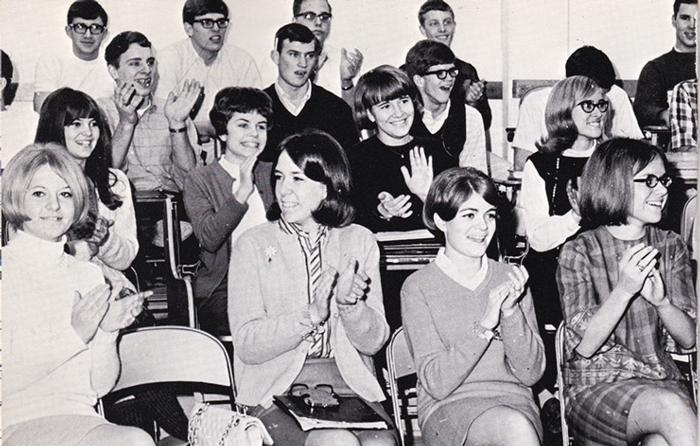 A Cappella Choir reacts to picking Brigadoon for FDSH Spring Musical.
Brigadoon is a musical with a book and lyrics by Alan Jay Lerner, and music by Frederick Loewe. Songs from the musical, such as "Almost Like Being in Love", have become standards. The story involves two American tourists who stumble upon Brigadoon, a mysterious Scottish village that appears for only one day every 100 years. Tommy, one of the tourists, falls in love with Fiona, a young woman from Brigadoon.
The original production opened on Broadway in 1947 and ran for 581 performances. It starred David Brooks, Marion Bell, Pamela Britton, and Lee Sullivan. In 1949, Brigadoon opened at the West End theatre and ran for 685 performances; many revivals have followed. A 1954 film version starred Gene Kelly and Cyd Charisse, and a 1966 television version starred Robert Goulet and Peter Falk.
Our Cast
Tommy Albright...............Randy Pieper
Jeff Douglas.................Terry Goodman
Archie Beaton...................Cliff Wallace
Harry Beaton.......................Jeff Ulstad
Angus MacGuffie...............Kent Brooks
Sandy Dean..........................Roy Tudor
Andrew MacLaren..........Mark Messerly
Fiona MacLaren.............Judy Drollinger
Jean MacLaren.................Pam Jordison
Meg Brockie.......................Carol Lepley
Charlie Dalrymple.............Steve DeWitt
Maggie Anderson................Beth Packer
Mr. Lundie....................Brion Wenhardt
Stuart Dalrymple................Larry Harris
Mac Gregor.........................Dan Schoon
Frank.................................Steve Drown
Jane Ashton......................Nancy Moore
Entire Brigadoon cast photograph by Messenger Photographer Fred Larson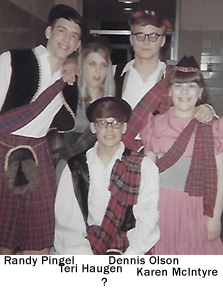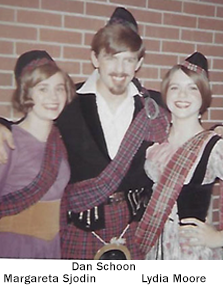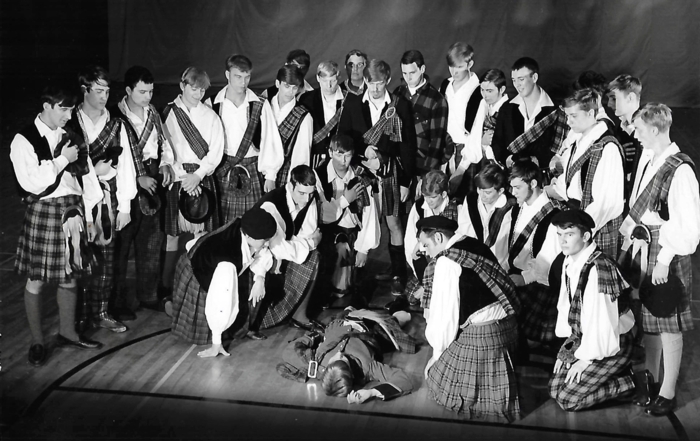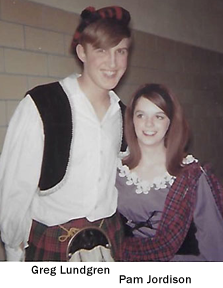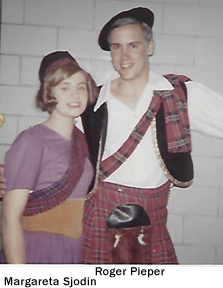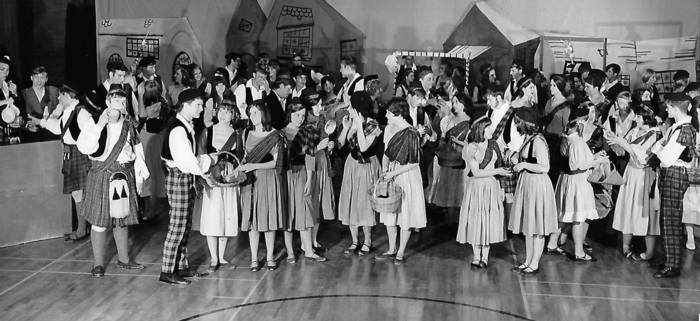 - - - The After Party - - -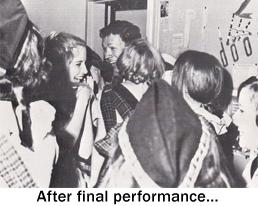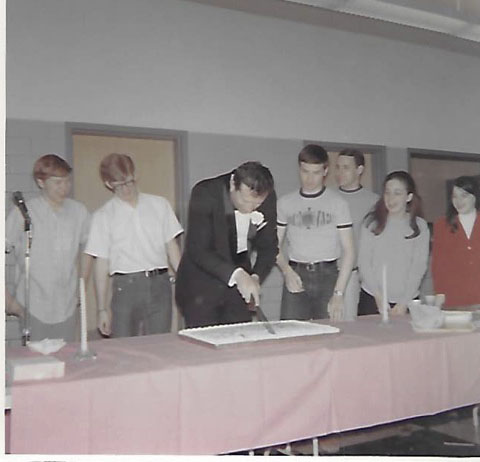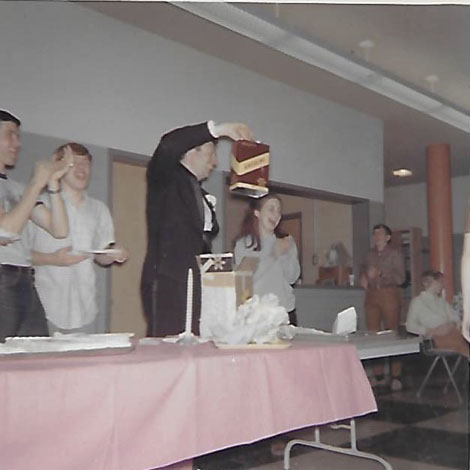 Special thanks to Classmate Marilyn Hanson Yoder for sharing most of the following pictures with us for use on this FDSH Musical Page. It is greatly appreciated!