Classmates
This is a page of news about Fort Dodge Senior High Class of 1968 Classmates. Keep us up to date by helping us hear about things that are going on. Awards, Accomplishments, Retirements, Activities, anything you would like to tell about you and your Friends From Fort Dodge Senior Highl. And don't be afraid to "Toot Your Own Horn". You deserve to be proud of yourself - after all - you're a DODGER!

Congratulations Dean Davis on this great honor!
January 8, 2018.
The Iowa Rock 'n Roll Music Association is honored to be able to recognize Iowa artists with induction into the Iowa Rock 'n Roll Hall of Fame and help retain Iowa's musical legacy. 2018 Inductees into the Iowa Rock 'n Roll Hall of Fame include: David Ellefson (Individual Artist), The Nadas (Band), Marilyn Maye (Lifetime Achievement), The Bushmen (Band), Rob Lumbard (Individual Artist), Buckeye (Band), Pam Dixon (DJ), IV Pauli (Band), Cabala (Band), Gary Richards (Individual Artist), George Rondinelli (Support People), Crusin' (Band), Rick Hillyard (Individual Artist), A Stitch 'n Tyme (Band), Torkays (Band), Lavendar Hill (Band), Dennis McMurrin (Lifetime Achievement), Johnny Green (Individual Artist), Festival (Band), The Trippers (Band), The El Riadas (Band), Dean Davis (Matousek Lifetime Achievement), Rich Mock (Individual Artist), Julie Christensen (Women Who Rock), Duane "Nudie" Binder (Individual Artist), Ralph Goldheim (Individual Artist), Dickinson County News (Media Representative), Jim Musser (Media Representative), and Lorados (Venue). Festivities for the 2018 Iowa Rock 'n Roll Hall of Fame Inductions will take place September 1st and 2nd in and around Arnolds Park, IA. Tickets will be available for the general public March 1st.

Here's a very interesting story about our FDSH68 Classmates Mark Larson and Dennis Olson. This sounds like fun!
Local golfer wins gold at the U.S. Hickory Open


by Chad Smith - NEWS LEADER
Wednesday, October 12, 2016 1:09 PM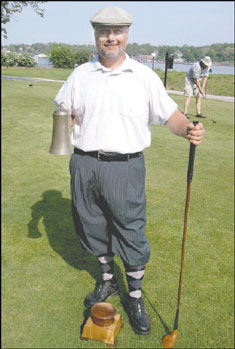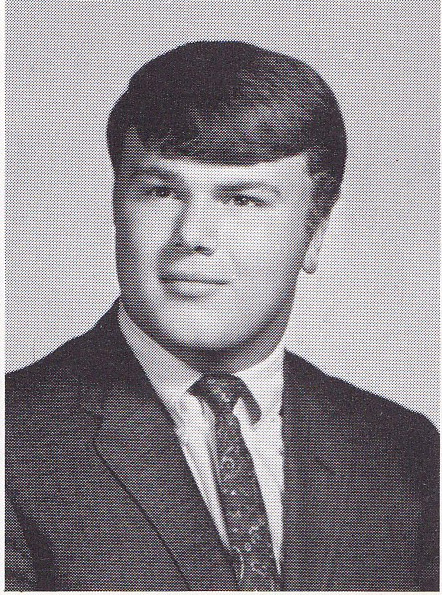 Picture short pants (knickers), long socks, long-sleeved shirts, vests, ties, hats and wooden clubs out on the golf course. It sounds like a throwback picture to golfing in the 1920s, but it's not. It's called hickory golf, and it's actually a pretty popular sport across the country right now.

Mark Larson of Rushford is a long-time hickory golfer, and in late September, he came out of the U.S. Hickory Open tournament with a gold medal in the Senior Reserve Division, shooting a two-day total of 144, good for two over par.

Dennis Olson of the Quad Cities area in Iowa is a long-time friend of Larson, and he said it's easily the most prestigious medal Larson ever won.

"The U.S. Hickory Open is the biggest and most important tournament of the year," Olson exclaimed.

"This year, it happened to be in Wisconsin at the Lawsonia Lakes Golf Course in Green Lake. It's a very challenging and neat course. It's been recognized by Golf Digest magazine and others as special."

Lawsonia Links is a links-style golf course, as the name implies, and there are no trees on it. The course was originally built in the 1930s and can be deceptively difficult to play.

"These types of courses are typically built along a shoreline," Olson said. "They tend to be flat, like St. Andrews in Scotland. At this course, the fairways are a little more rolling, and there are a lot of sand traps and fairly fast greens.

"With no trees and being fairly flat, it might sound like an easy course to play, but it's not. It's long for hickory golf."

The next logical questions would be "What is hickory golf?" and "Is it different from regular golf?"

In addition to the different dress code, the game is played entirely with wooden clubs made of hickory. Most golfers would guess that the old-fashioned clubs don't drive the ball as far as modern equipment, and therein lays the challenge.

"It's like hitting a softball with a wooden bat as opposed to an aluminum bat," Olson said. "The feel and the sound are much different, and for those of us who play with hickory clubs, much more satisfying."

"The old clubs aren't as forgiving as modern clubs are," he added, "and the ball doesn't travel as far. If someone is a good golfer with modern clubs, the transition to hickory is really easy. The clubs are smaller, and the sweet spot is much smaller too. It makes the game more challenging, but it makes it more interesting too."

There are a couple of hickory golf associations in America that run different tournaments. Olson and Larson belong to a group called the Society of Hickory Golfers. There's another group called the Hickory Golf Association.

"The groups are similar in size, with members from across the country and even from Europe," Olson explained. "And we all golf with antique golf clubs. Prior to 1935, most golf clubs had wooden shafts, and that wood was primarily hickory."

The two organizations sponsor tournaments throughout the golf season with one almost every weekend from May through September, so that somewhere in the country there's a hickory golf tournament going on.

"We collect and play with those old clubs," Olson said, "and we dress in knickers, vests, long-sleeved shirts, neckties or bowties, with the little flat golf hats. We look just like the golfers who played with those old clubs back in the day."

Larson is a former Club Champion and longtime board member at the Ferndale Country Club.

This is a copy of an article that appeared in "Periospectives", which is a regular publication from the American Academy of Periodontology. FDSH68 Classmate John Kobs was honored by his peers September 9, 2017 at the association's annual meeting. John said "I am flattered beyond measure. Thank you to all my beloved friends within the AAP.".
The FDSH Class of '68 joins in congratulating John for this recognition.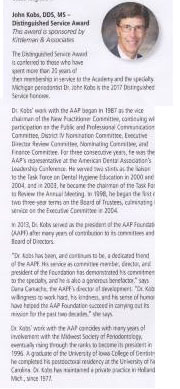 From THE MESSENGER
February 23, 2017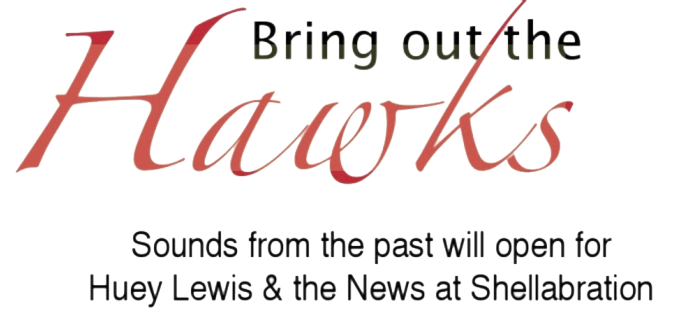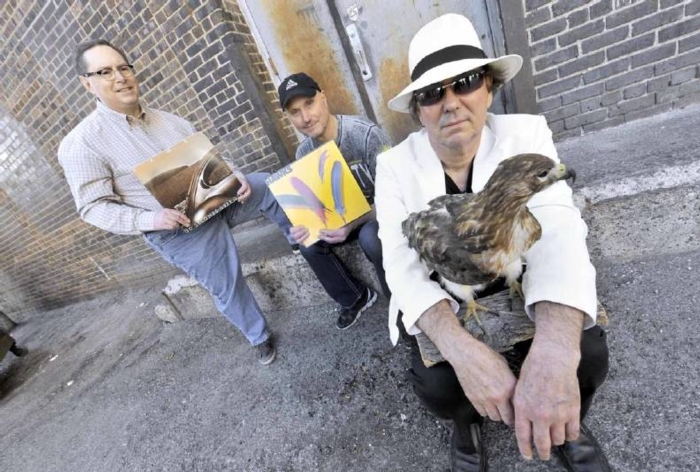 (L to R) Dave Hearn, Kirk Kaufman and Classmate Frank Wiewel
23 Feb 2017 — The Messenger
Hans Madsen
Shellabration President Jim Reed has announced the warmup bands for the 2017 Shellabration concert featuring Huey Lewis & the News on July 8 at the Harlan and Hazel Rogers Sports Complex.
Longtime fans of the band HAWKS, which recorded a pair of albums in the early 1980s, are in for a treat. The group, with all original members on stage, will be the featured warmup act.
That includes Kirk Kaufman, of Otho, the owner of Junior's Motel Recording Studio, on bass; Frank Wiewel, of Otho, founder of People Against Cancer, vocals; Dave Hearn, of Fort Dodge, owner of Silhouette Multimedia, on keyboard; Larry Adams, a contractor in Leander, Texas, on drums; and Dave Steen, of Lincoln, Nebraska, a songwriter, on guitar.
Reed said the idea of getting the HAWKS together for a gig at Shellabration has been in the works for several years. It started as casual conversation between Reed, Kaufman and Hearn and eventually evolved into this year's gig.
They last played together, although not with every member present, during their 2007 induction into the Iowa Rock -n-Roll Hall of Fame.
It had been a while before that.
"The last time we played together in a gig situation was in 1982," Hearn said.
The band took an unusual route to its success. Most bands will play gigs, build up a collection of songs, tour, develop a following and then maybe, record an album.
The HAWKS did almost the opposite.
"Frank Wiewel had recorded a number of tracks when his wife, Denise, convinced him the songs were good enough and insisted he send them out to the major record labels," Reed said.
Columbia and Capitol Records both wanted to see them live.
"The only problem," Reed said. "There was no band."
Greg Geller, with Columbia Records came out to see them.
"He called us up," Wiewel said. "I can't find Otho on the map, can you get me to Des Moines, we went and picked him up. He said, 'boy you must be out in the boonies.'"
"As far as I know, we're the only band to sign unsolicited with a major label," he continued. "No manager, no band."
The HAWKS went on to release a total of three albums. HAWKS was released in 1981 and 30 Seconds Over Otho in 1982, both on Columbia. A collection of unreleased HAWKS material came out in 2003 on Not Lame Records called Perfect World Radio. The last album was made from tapes the group still had in their possession.
"Columbia never asked for any of those tapes," Hearn said. "It was something very cool."
The band had two singles that charted. "Right Away," was No. 63 on the Hot Billboard in 1981. "It's All Right, It's OK," went to No. 32 on the Billboard Mainstream Rock chart in 1981.
The group is planning on plenty of rehearsals to relearn their songs, Reed is looking forward to a great show and expects them to play as well as they did in the past.
"Individually, they've remained musical over the years," Reed said. "We have no fear. Given the professional nature of the musicians, I'm not worried about that at all.''
The group is no stranger to sharing a venue with Huey Lewis. They played together on the same episode of the TV show ''American Bandstand'' in 1980.
Reed expects that for many fans, the experience of hearing the HAWKS live again will be a link to their past.
"I'm going to be reliving a memory," Reed said.
Kaufman, like the other members, is also looking forward to the gig.
"It will be neat to get the same people together," Kaufman said. "The music was really great."
The group, in spite of time and distance, maintain their friendships.
"We never tried to kill each other," Wiewel joked.
The group Far From Innocent, based in northern Iowa, will start the music.
The four piece band, described by Reed as a "gritty rock band," is described as a mix of dynamic power guitars, sleek and smooth bass lines and powerful vocals.
The lineup includes Craig Harkema on bass, Heather Harkema on guitar and vocals, Lance Larsen on drums and Mike Pigman, lead guitar.
2017 Shellabration at the Harlan and Hazel Rogers Sports Complex
Gates open at 5:30 p.m.
Headliner: Huey Lewis & the News 9:30 p.m.
Opening acts: Far From Innocent 6:15 to 7:30 p.m., HAWKS 8 to 8:45 p.m.
Tickets go on sale at midnight March 24th.
$36.00 on/or before June 18th.
$45.00 after June 19th until date of event.
(Children under 12 are admitted free)
Tickets are available online at www.ticketweb.com, by phone at (866) 468-3401 and at the following retail outlets:
Hy-Vee, CSBank, Citizens Community Credit Union, First American Bank, Great Western Bank, Northwest Bank and Wells Fargo Bank.
The show is general admission with festival style seating, concert goers should bring their own chairs. No outside food, beverages or coolers. Refreshments available on site. Free parking is provided with shuttle service.

From THE MESSENGER Today
February 4, 2017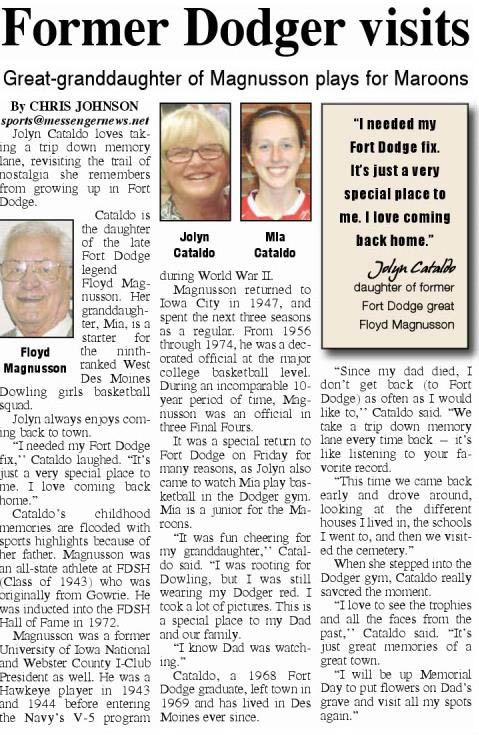 We just found this (a bit old). It was reported in the Okanogan Valley Gazette-Tribune on July 12, 2013.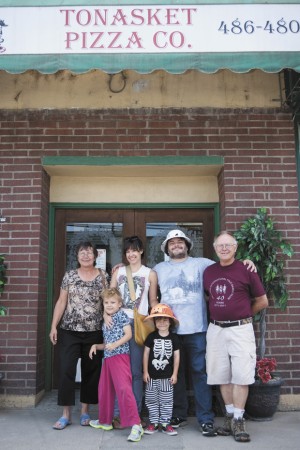 Jack Black and the family enjoyed some vacation time in the Okanogan Valley last week. Pictured are (front, l-r) Sammy, Tommy (back) Linda, Tanya, Jack and Tom Black.
- - Jack Black is the stepson of classmate Linda (Larsen) Black - -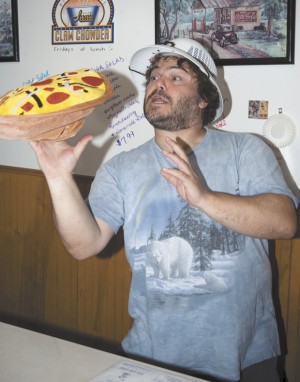 Jack Black takes a stuffed crust pizza (of sorts) for a spin at the Tonasket Pizza Company. The actor/rock comedian and his family visited in the area last week. Brent Baker/staff photos

Classmate News From The Past
from the Des Moines Register May 24, 1968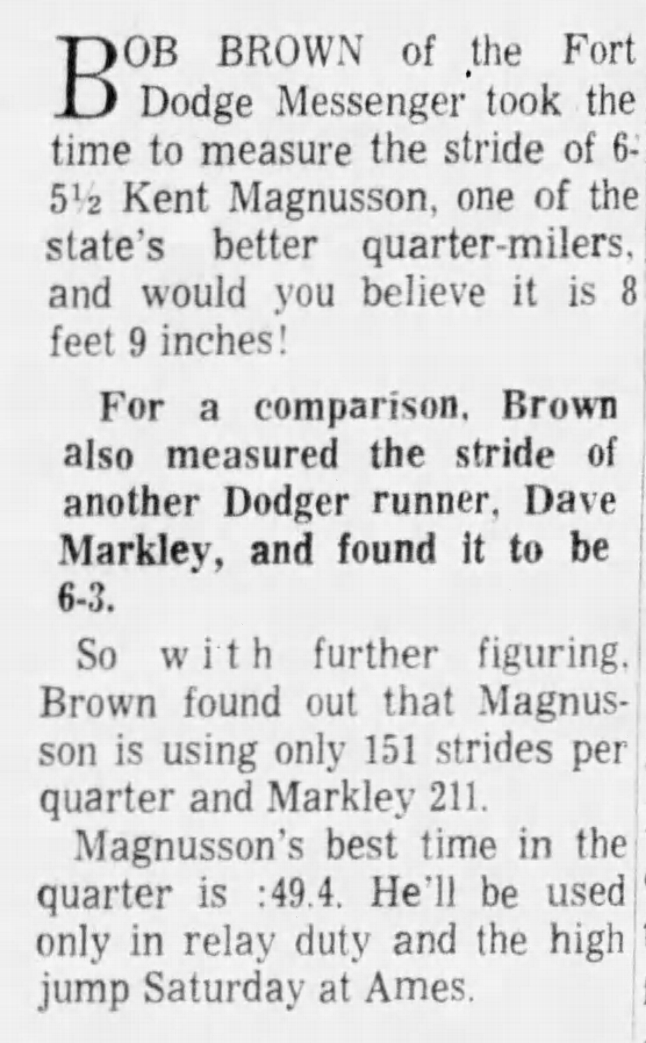 I just found this post by Classmate Robert Hamlow on Facebook. Robert isn't on our website yet but go on over to him on Facebook and give him an "at-a-boy".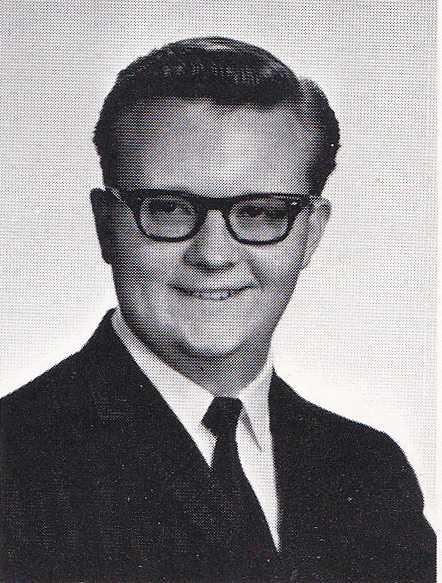 Facebook address: https://www.facebook.com/robert.hamlow.3?
Robert Hamlow
27 days till I hang up the old T square, triangles, compass and pencil (wow I am old!) er I mean close the drafting program, turn off the old computer and leave the cubicle behind! It's been 26 years, six months since I started at Allers Architects...52 years since my first job with a myriad of occupations in between. Odd but only 2 businesses I've worked at are still in business...couldn't get along without me I guess! Ha-ha! Kids are throwing me a party at St Paul Lutheran here in FD on July 17 from 3:00pm - 7:00pm so swing by and reminisce if you have some spare time!


We received the following from classmate John Kobs:
My daughter, Shannon, was just featured as the cover story in the P.E.O. Record (magazine). I don't know if many of our female classmates are also members of P.E.O. other than JoDena McNally. If so, they might find this interesting.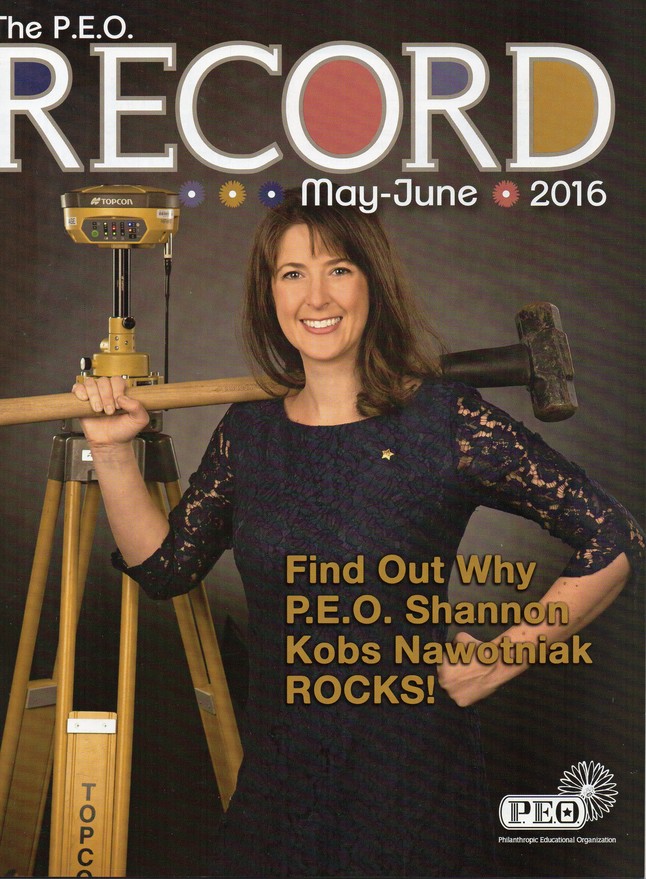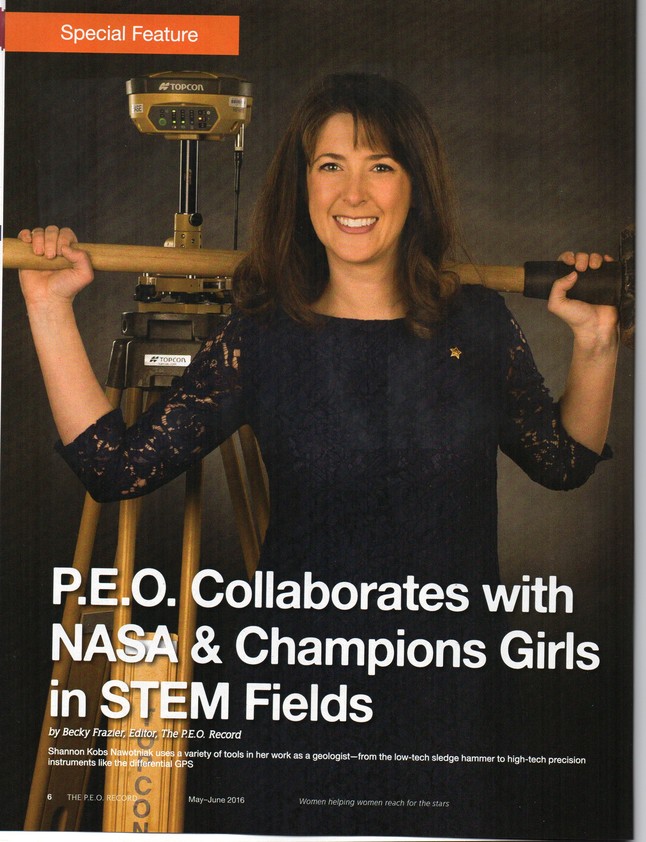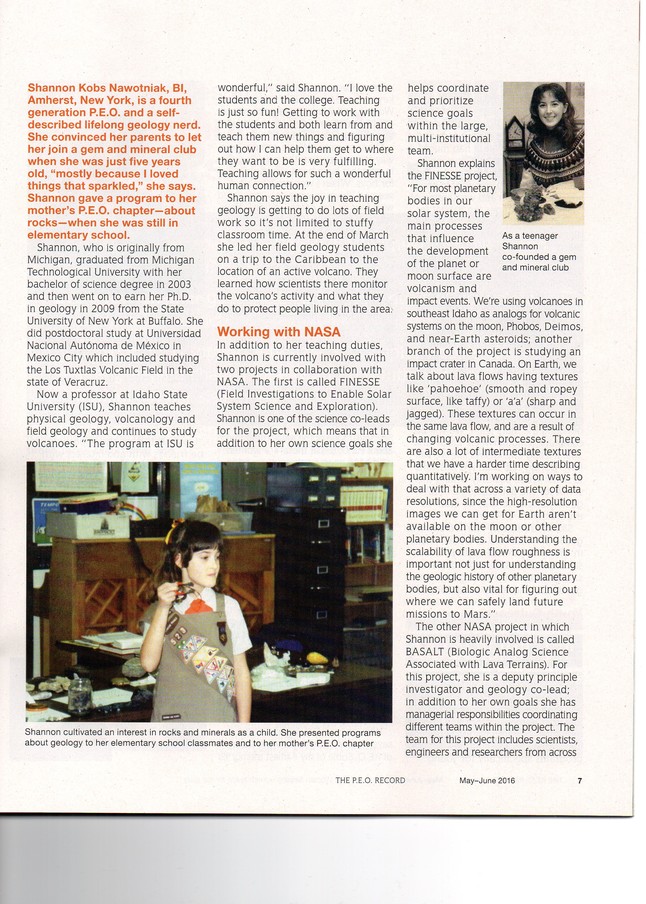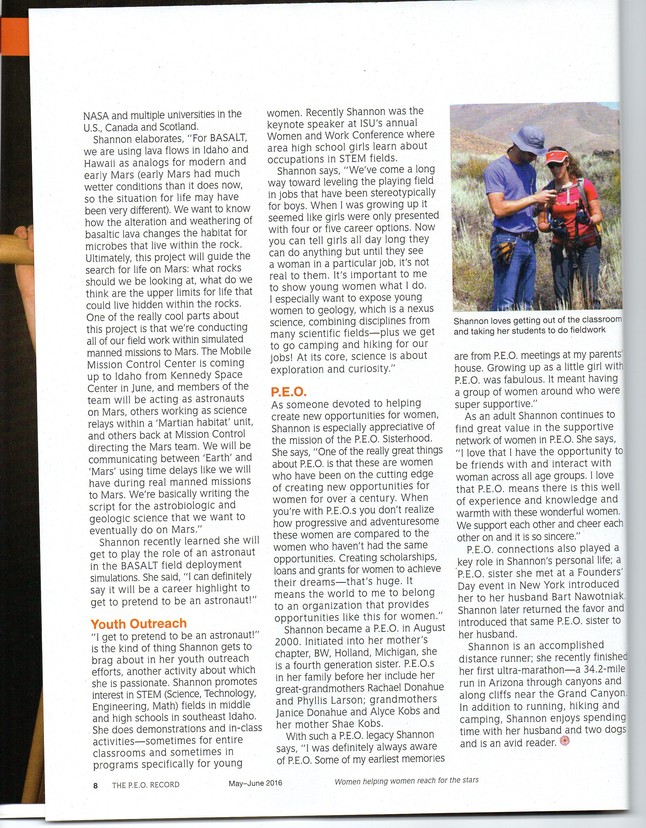 Dave and Helen Bass adopted a 13 month old Standard Poodle named Piper on May 11th. She weighs 50 lbs., loves to explore her new surroundings, and as Dave says, "We are sooo excited to have her"! Congratulations Dave and Helen on the new member of your family.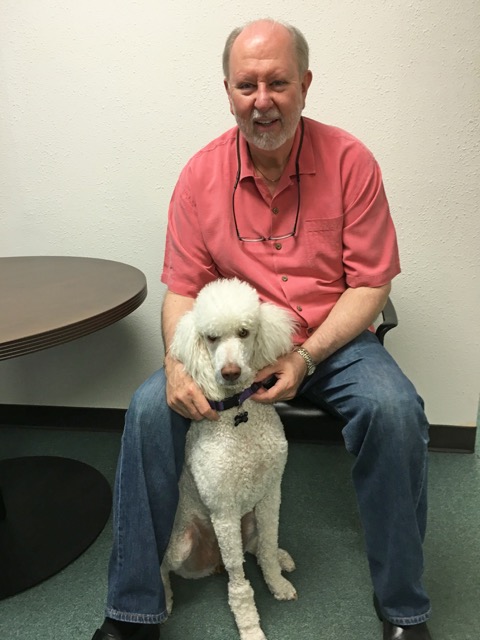 From THE MESSENGER May 15, 2016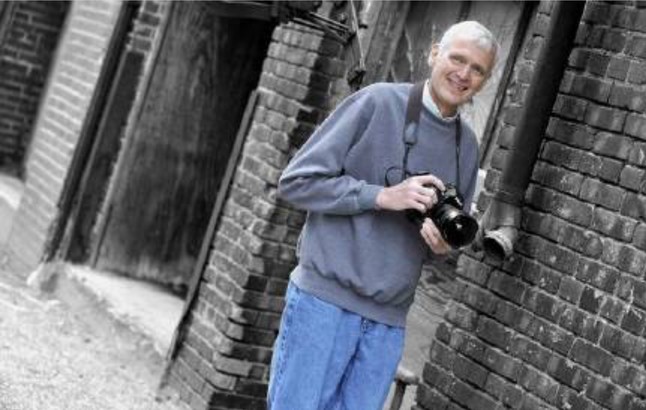 The changing face of senior portraits
By HANS MADSEN
As the annual round of graduations get underway, one of the common items seen on display at the family celebrations afterwards is a mounted collection of the graduate's senior portraits.
How those images are taken, and how many make it to the spot of honor above the fireplace mantle, has changed over the decades.
Howard Haase, who retired from Haase Photography in 2003 and just finished his last year as the program director for the Iowa Central Community College photography program, looks back at what was once pretty simple.
"It was just a head and shoulders shot," he said. "At the time, they were black and white and you might have a few three quarter shots too."
If a client wanted color, it was added later.
"They used transparent oil and then tinted them," he said.
The process was expensive and labor intensive. It was usually only done to one print, the one the family would display.
"My wallets were black and white," Haase said of his own high school graduation photos.
Maureen Powers, owner of Buckroyd Studio, began her photography career in 1973. Her own senior portrait, from 1970, was in color.
"We didn't switch to color in the studio till the late 1960s," she said.
While working with color film made it easier for the photographers, it also eliminated a few jobs. The skilled workers who tinted the photographs were no longer needed.
"A lot of ladies lost their jobs," she said.
Powers said that senior portraits, or graduation photographs as they were also known, remained relatively static and unchanging for decades.
"I've looked at pictures from the early 1900s," she said. "From then until my day it stayed the head and shoulders portrait."
But in the early 1970s, photographers began taking graduation portraits outside the studio.
"Photographers started taking the kids outside," Powers said. "It was partly inside and partly holding up a tree outside."
Haase got in on the early era of color too.
"When I got started, color was coming on strong," he said. "It gave people the idea that portraits didn't have to be taken in the studio. The reduction in the size of the equipment made it more feasible."
As the outdoor portrait trend continued, more and more students began having their portraits taken with things that were important in their lives.
"The guys loved to bring their cars, motorcycles and pets," Haase said.
Powers saw that happening too. Sports gear, musical instruments, hobby items and pets were common.
"That got really rolling in the '80s," she said.
"Ghost" portraits were a trend that came and went with the '80s. The photographer had to do a double exposure, which resulted in two images on the negative, one of which appeared to float on the black background.
Some studios also had a system that would project an outdoor image behind the senior having their portrait taken. It didn't work very well.
"It was incredibly fake-looking," Powers said.
Digital photography, and the ability to work with the images on computers, began to reach into the studios as the '90s were ending.
For Haase, it was a gradual transition.
"We photographed on color negative film, then scanned the negatives," he said.
He retired from the studio before going completely digital.
While Powers still owns the film cameras she once used for portraits, they now spend their time in a cabinet rather than on location.
She predicted that location photographs, rather than studio work, will continue to grow, mostly due to changes in who is hanging up their sign and calling themselves photographers.
"The entry-level aspiring professionals don't have studios," she said. "They're working out of their basement or a spare room."
Powers sees the digital imaging and the post-studio photo manipulation as a double-edged sword. On one hand, it can make touching up minor blemishes easy and seamless. On the other, it can get completely out of hand.
"Photographers are relying more and more on software than hardware," she said. "The Photoshop thing has just gone wild. I've seen images where they end up looking like porcelain dolls with glowing eyes. They think this is the new hot thing."
Other trends, such as glowing white backgrounds, seem to be driven by popular culture.
"It's just like clothing," Powers said. "It's patterned out of Hollywood and fashions."
Today, it's also popular to photograph seniors in rather rough-looking urban settings, such as old brick alleys.
"I did that in the '80s" Powers said. "The mothers did not like it. Now it's standard."
One thing that drives what the photographer is ultimately able to sell to the client is what the person writing the check wants. With senior portraits, that's usually the parents.
Their word, she said, is final.
"With all these trends," Powers said, "you do them. But the ones that sell are the closeups where you can see them smiling. At the end of the day, the parents still want the close shot with them smiling."
How people view images has also changed, particularly among those who grew up using computers. Powers' clients can view their images online, but have to come into the studio to purchase prints.
"We just post them," she said. "We don't sell them that way."
Some studios do sell the images digitally and without a print, but the images are vulnerable to being lost when computers die and smart phones get dropped in the sink.
"I still think it's valid to get hard copies," she said.
Wardrobe and hairstyles that seem trendy and cool this year, well, not so much a decade down the road. On that list, mullet hair cuts, big '90s hair, poofy shoulders, rainbow suspenders and a host of other things, such as colored hair gels.
"Parents didn't like that one either," Powers said.
The man bun is probably on that list too.
Powers will continue to take some traditional photos for her seniors.
"I still do a lot of the traditional stuff," she said. "Years down the road, that's what people will want rather than the shot with somebody running through the weeds where you can't see them."
Haase thinks that the senior portrait will, no matter where trends take it, continue to be important to family histories.
"It commemorates a pretty special time," he said. "The more personalized it is, the more meaningful it is."